Leads and Auto Transport Software
Receive our auto transport leads directly into your Auto Transport Software system. We are set up with all the major auto transport broker software providers, like Jtracker, MegaBee, Auto Broker Dispatch, just to name a few. If, for some reason we are not already integrated with your software company we will personally work with them until we are. All you have to do is let your software provider know that you would like to start receiving leads from iMover Leads. They will then provide you with a "unique" email address, that you will then add  to your leads application, and within minutes you can start receiving our auto transport leads.
Quality cost effective Transport Leads
Increase your business by joining our transport leads program. Receive FRESH, real time, high quality auto transport leads directly to your Auto Transport Software. Join our network and instantly begin receiving leads you can depend on for your auto transport business. We specialize in generating Quality Auto Transport Leads exclusively for the auto transport industry. We are the experts in online marketing, and our leads are fresh, and of the highest quality.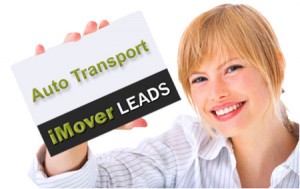 Leads Packages Available:
$500 package   (13- 17 leads per day)
$1000 package (27-33 leads per day)
$1500 package (40-50 leads per day)
$2000 package (55-67 leads per day)
$2500 package (70-83 leads per day)
$3000 package (85-100 leads per day)
$3500 package (95-117 leads per day
$4000 package (115-133 leads per day)
Pay A You Go! Split your monthly fee into 4 weekly payments
Each unique quote request that we generate is sent to 10 auto transport brokers. iMover Leads guarantee's a maximum cost of no more than $1.25 per lead. However, during this time of year average lead cost ranges around $1 – $1.15 per lead. If you would like to start receiving our auto transport leads, fill out our online e-sign application on our  Sign-Up Now page. Within minutes we will process your application, and activate your leads. There are NO CONTRACTS and our services are month to month. We have NO SETUP FEE's and you are free to start and stop your leads at any time.
Higher Conversion Rates
We are the best choice among auto transport lead providers for the auto transport industry. At iMover Leads it is our goal to bring you higher conversion rates than any other lead provider. Not only are our transport leads of the highest quality, but also backed by our excellent customer service. We believe you should only be paying for high quality leads you can depend on. We cannot control what customers choose to enter into our lead generating sites, however if you receive a lead that you are not able to call and e-mail due to "bogus information" we will credit you at the end of your billing cycle or send you more leads to compensate for them.  In another effort to increase our quality we have setup a duplicate tracking device within our system to flag and NOT send any duplicates to our customers.
Increase efficiency with Auto Transport Software
Integrate your Auto Transport Software with our transport leads and give your business the extra SALES BOOST you've been searching for! With the industries highest conversion rates, increased rates of return, and superior customer support, what are you waiting for?
Call us today to start receiving our Auto Transport Leads, (888) 221-6602.